Christmas 2019 Opening Hours
Posted on: December 16, 2019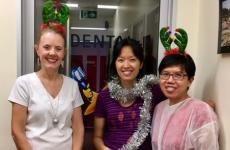 Twinkle Family Dental will be closed for the Christmas/New Year Holiday period from 6pm on Friday 20th December 2019 and reopen at 9am on Monday 6th January 2020.
For any dental emergency during this period please contact the Australian Dental Association Emergency Call Centre on 9369 7050 and they will advise the nearest available dentist.
If you wish to book an appointment with us on or after Monday 6th January 2020 please click the online booking button on this page.
From all the team at Twinkle Dental, we wish you a safe and Happy Christmas and a wonderful 2020!!
Opening hours
Monday: 9am–5:30pm
Tuesday: 9:30am–6pm
Wednesday: 9am–5pm
Thursday: 9am–5pm
Friday: 9am–6pm
Saturday: 9am–1pm
Sunday: Closed