You are here
Happy Gas & IV Sedation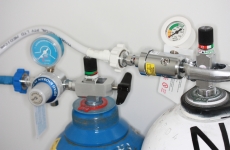 Happy gas (aka laughing gas), or Nitrous Oxide, has anesthetic properties that were discovered by a dentist named Dr. Horace Wells in 1844. He is usually credited with being the father of anesthesia. It is an inert gas that makes the patient feel light headed (like floating among the clouds), less anxious, and also has some anesthetic properties. It takes effect quickly, can be adjusted during administration and wears off quickly. The main use in dentistry is for the reduction of anxiety. It smells good and is administered with a "Mr. Nose" which is a nasal hood.
Although Nitrous Oxide has some anaesthetic effect, you cannot rely solely on it to eliminate painful sensations when undergoing more invasive procedures. Local anaesthetic is often still necessary.
Is Happy Gas Safe?
Yes, when administered to patients correctly. It is always administered with oxygen. In fact, flowmeters these days have a fail-safe mechanism that will deliver at least 30% oxygen, which is much higher than the oxygen concentration in noraml room air (21%). For the people where happy gas works on them, most fall in the range of 40%-60% Nitrous/40%-60% Oxygen. The only complication I sometimes see is a child who has been on it a really long time and gets a little sick to his stomach. Sort of like riding the merry-go-round one too many times.
Do patient's really laugh?
Well, usually not. It is common to just feel good and "zoned out" a little while still being fully responsive and able to carry on a conversation. Some people really do get the giggles though. When they do, it can be hard for them to stop, and can be quite funny!
By the way, it's also used in race cars to boost engine output.
IV Sedation is also known as Twilight Sedation, Sleep sedation or Conscious Sedation. Sedative medication is given to the patient to relieve anxiety, reduce stress and pain, making the patient very comfortable. In some cases, it also has a hypnotic or amnesic effect, where you do not remember the procedure or feel like there has been a time lapse. The effects are quite varied on different people. It is safe in suitable patients, and recovery is short when compared to General Anaesthesia (GA). Your vital signs are constantly being monitored throughout the procedure.
Will I be fully asleep?
You are not unconscious with IV sedation, i.e. knocked out like with General Anaesthetic, but you may or may not fall asleep. You can follow simple instructions, like "Take a deep breath" or "Turn your head". However, you are so relaxed and comfortable that it does not cause you any anxiety. You are also not paralysed and therefore can move your hands if you desired, but you may feel weak to do so.
Who can have IV Sedation?
A comprehensive medical history and physical assessment need to be done by the dentist and the sedationist, prior to being deemed suitable for sedation. While children of 12 years old and younger can be sedated, in our practice, we would only provide this service for patients within the age range of 13-70 years old.
What preparations are required?
You are expected to fast prior to the appointment time.
A responsible adult will have to escort you to the appointment and stay with you for the remainder of the day as you may feel a bit drowsy afterwards.
You must also not attend work, operate heavy machinery, or make critical decisions after the procedure, which includes being a sole carer for young children.
Further detailed instructions will be given once you are assessed for sedation.
Opening hours
Monday: 9am–5pm
Tuesday: 9:30am–6pm
Wednesday: 9am–5pm
Thursday: 9am–5pm
Friday: 9am–6pm
Saturday: 9am–1pm
Sunday: Closed