Dr Rachel Wong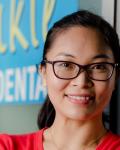 Dr Rachel Wong received her Bachelor of Dental Surgery (BDS) from University of Sydney in 2003.
Prior to moving into private practice, Rachel worked as a dental officer in Westmead Centre for Oral Health (aka Westmead Dental Hospital) for quite some time, gaining some very unique experience in Special Needs Dentistry, in addition to General Dentistry. Her time at Westmead Dental Hospital also brought her to work in Community Dental Clinics in Port Macquarie, Kempsey, Katoomba, Lithgow, Narooma and Marouya. She found the variety of experience and exposure interesting and fulfilling.
Aside from dentistry, Rachel enjoys teaching scripture classes in school during the week. She also loves reading, painting, and playing music. Obviously, she is more of an indoor person! However, since entering the City2Surf in 2011 with her husband, she has caught the running bug, and now enjoys going for a run with a group of friends on weekends.
Rachel has spent most of her life in Sydney but travels to Hong Kong regularly to visit her family.
Certifications:
BDS (USyd), member of ADA
Certifications, awards, and professional development
Other courses/seminars attended in 2011
Pacific Dental Conference, Vancouver - Updates in minimal invasive dentistry, crown and bridge, early intervention in orthodontics, aesthetic fillings and occlusion.
The Complete Guide to Predictable Anterior and Posterior Aesthetic Restorations: Hands-on workshop on the techniques, tools and materials to create direct aesthetic dental fillings -- by Dr Martin Fier
Composite restorations -- Recreating Nature's Anatomic Blueprint: Hands-on workshop for creating life-like, aesthetic fillings -- by Dr Robert Lowe
The Christensen Bottom Line: Updates in a broad range of topics, new products and techniques in dental practice -- by Dr Gordon Christensen
Myofunctional Orthodontics
(

06-2011

)
Presented by Dr John Flutter, this was an eye-opening and extremely interesting course. The main focus was on how incorrect muscle functions in childhood can lead to crooked teeth. If they are corrected early, it can help prevent some of the problems from developing, as well as preventing or reducing the extent of orthodontic treatment required in teenage years.
Some courses attended from 2008 to 2010
Oral Health Education Day -- Westmead Dental Hospital
Take home techniques in Clinical Dentistry -- Royal Australasian College of Dental Surgeons Scientific Day
Sleep Apnoea lecture series -- Westmead Dental Hospital
Rotary Endodontics -- Sydney Dental Hospital/University of Sydney