You are here
Whitening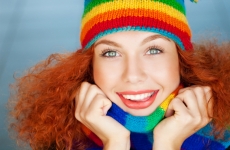 Teeth whitening basically involves an oxidation process that lifts the pigment out from the teeth. It is safe so long as the proper procedure is followed through correctly.
There are many different brands of over-the-counter teeth whitening system, and they tend to come and go. Over-the-counter products do work, but some people find that the result can be a little patchy, while others are perfectly happy with it. It is very much a trial-and-error thing. Length of treatment time is usually determined by the specific formulation of the brand.
Generally speaking, the professional treatment provides more consistent result than the over-the-counter type.
There are 3 options for professional whitening
Take-home professional kit
The one we recommend is DayWhite. Custom made trays are part of the kit and on average requires 2 - 3 weeks of application, once per day for 1 hour. We believe it is the most cost effective method, as patient can keep the custom trays and simply purchase extra gel (professional strength) later to top up and maintain the result. Another advantage is the ability to control/manage any sensitivity issue easily. The only down side is that you need to have sufficient self discipline to apply it daily for 2 - 3 weeks.
In-chair whitening
All done in dental office, ~1 hour. More expensive due to longer in-chair time. We have tried several different products over the years and found a larger percentage of patients experiencing sensitivity during & after treatment. When the sensitivity gets quite intense, it's either the patient bites the bullet and gets through with it, or we will have to stop and make a take-home kit for him/her to do it at home for another 5 - 7 days.
Laser bleaching
Supposedly most speedy & effective. The most aggressively advertised one to date is probably "Zoom!". It is not available in our practice. Feedback from some fellow colleagues who have used it is that patients tend to experience fair bit of sensitivity. "Zoom2!", which was release more recently, is supposed to have addressed that problem. This is also usually the most expensive option due to high equipment set-up cost. If there is a specific function you intend to whiten your teeth for, we suggest that you start at least 1 month before the function because it takes ~2 weeks for the result to settle and look its best.
Opening hours
Monday: 9am–5pm
Tuesday: 9:30am–6pm
Wednesday: 9am–5pm
Thursday: 9am–5pm
Friday: 9am–6pm
Saturday: 9am–1pm
Sunday: Closed