Twinkle Dental "Wear Pink Fundraiser" 2019
Posted on: November 26, 2019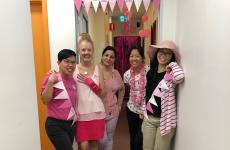 Every year our practice runs our annual "Wear Pink Fundraiser for Womens Cancers" for a whole week every October. We all wear pink and decorate the surgery, and donate. Patients can also donate.
This year we have raised our most ever - $460!! We are so thrilled.
It is something very close to our hearts and we are happy to support this wonderful cause.
Opening hours
Monday: 9am–5pm
Tuesday: 9:30am–6pm
Wednesday: 9am–5pm
Thursday: 9am–5pm
Friday: 9am–6pm
Saturday: 9am–1pm
Sunday: Closed