Media articles
Who says we are not famous? Just like celebrities dedicate to a good performance and rewarded with publicity, our passion for a beautiful "twinkling" smile is also well known. Have a read below to find out more.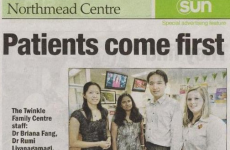 Publication date:
Sunday, 14. November 2010
Photo text: The Tinkle Family Centre staff: Dr Briana Fang, Dr Rumi Liyanagamagi, Dr Elliott Fang and receptionist Michelle Davis.
Patients come first
The Twinkle Family Centre has a special interest in chilren but caters to all members of the family. ...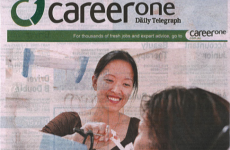 Publication date:
Saturday, 28. February 2009
Open wide to, fill a hole in oral care
WHAT'S in a name? As far as last-names go this dentist was born for oral hygiene. Dr Briana Fang says it wasn't until dental school the teasing began, and then it didn't matter. "I know, fang, teeth, it's the perfect surname for...