Dr Briana Fang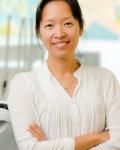 Dr Briana Fang is a general dentist with special interest in Paediatrics and Orthodontics. She is a University of Sydney graduate (1998) and was awarded the medalist in Paediatrics.
Briana has worked rather extensively in various organizations and private practices in Sydney, as well as a short period of time in the UK. Her desire to provide up-to-date comprehensive care to her patients, especially the children she adores, brings her to many various courses & conferences over the years to continuously improve her understanding and clinical skills.
Outside of dentistry, Briana enjoys spreading her time over a wide range of interest -- travelling, reading, dancing, going for live performances or a good art/craft exhibition, a little bit of hiking and camping etc. She believes that variety is the key to spice up one's life. And if anyone ever wonders...her husband begged her not to change her surname after they got married, as her maiden name is the perfect name for a devoted dentist :-)
Certifications, awards, and professional development
Facial Growth and Controlled Arch
(

07-2013

)
A 3 day course on facial growth and development. It's amazing how you can now improve facial profile and facial beauty without the use of facemask and simply with an intra-oral plate instead.
Facial Development and Posture course
This course was presented by Bob Walker (an American-based chiropractor with special interest in the dental field, performing cranial manipulation to assist with orthopaedic orthodontic treatment or pain management) and Dr Kaye McArthur. Bob provided the chiropractic side of information while Kaye related them back to the clinical side of things that we had to deal with as dentists. Bob presented a different way of looking at the skull and the relationships of its various pieces of bones... different from how the dental community tends to view it traditionally. See more details in the News section.