Jane Gu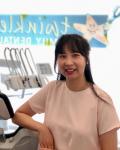 Jane started working with us in 2019 as our part time receptionist. She enjoys administrative work, worked as an administrator and receptionist in other industries for almost 8 years prior to joining us, and is quite a fast learner. Since joining the Twinkle family, her enthusiasm led her to starting, and completing, her Dental Assisting course, so don't be surprised to see her assisting chairside these days as well.
Jane loves seeing people smile and is always with a smile herself. To have a happy patient at the end of each visit gives her a thrill. She is also fluent in Cantonese and Mandarin, which is quite handy at times.
In her spare time, Jane spends most of her time with her husband and dotting over their young daughter, going to parks or visiting friends, and taking short family trips on Sundays. Food, baking and photography are her other favourite activities.